Gain clarity & insight with geospatial analytics.
Without the right time, tools, and technical expertise, it's hard to get insights that enrich conversations and improve city-scale decisions. But mySidewalk's analytics engine is fine-tuned to help you answer pressing questions about city progress and growth, quickly.
Answer important questions with advanced analytics.
Whether you're talking about vacant properties, emergency response times, multi-family housing units, proximity to parks, or citizen satisfaction, the same questions emerge. mySidewalk helps you answer them with confidence.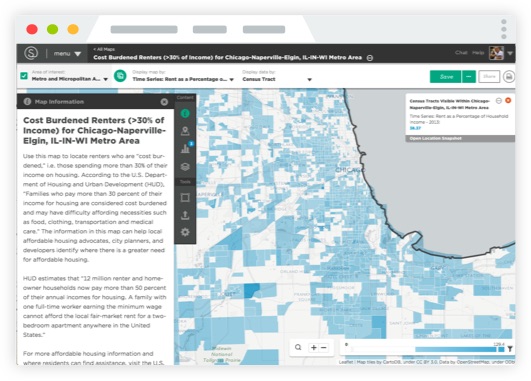 Map key indicators to every geography.
Examine the distribution of progress across census-reported geographies, plus neighborhoods, political districts, MPOs, school districts, police districts, and more. Answer questions like: Where's the area of greatest need? Are our policies and interventions making an impact?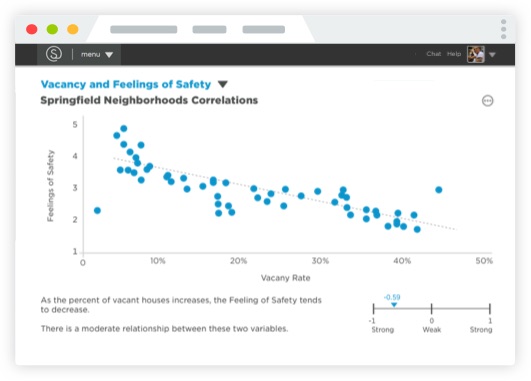 Measure relationships between variables.
Discover key indicators that are impacting each other, and determine the strength of the relationship. Answer questions like: What's actually going on here? How does this variable affect that one?
Benchmark related and peer places. Compare parts of the city to one another (neighborhood to neighborhood); parts of the city to the city as a whole (downtown to city); and the city to its peer cities. Answer questions like: Are similar census tracts performing differently? Where do we rank compared to peer cities on key indicators?
Understand growth and decline.
See how places have changed or are expected to change with a focus on inflection points. Answer questions like: When did progress start to take off? What other changes coincided?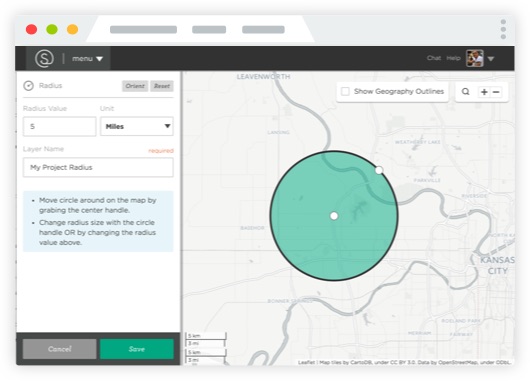 Follow your curiosity.
Answer your own questions with user-friendly tools, like map filters for finding locations that meet the parameters you set, and drawing tools for creating and analyzing custom shapes.
You work hard for your data. What's it doing for you?
Start a conversation with our team to learn how mySidewalk can simplify your workflow and improve your results.