Discover our why.
Our mission is to empower city leaders and the public with the most complete, clear, and real-time understanding of their communities so they can improve and innovate together. So we built a city intelligence tool that helps analysts in local government get data out of silos and into operational, strategic, and policy decisions.
How'd we get here? Fantastic question.
Rewind to 2010.
Our company has spent the last seven years helping city leaders make the best decisions on behalf of their communities.
It all began with the creation of MindMixer, mySidewalk's online community engagement solution that (so far) has helped more than 1,200 organizations have more meaningful conversations with residents.
We've realized, however, that engaging with residents is only one piece of the puzzle. In order for city leaders to make more informed decisions, they need to be able to combine citizen feedback with quantitative information (AKA data).
Our customers have told us it's extremely hard to extract, measure, and communicate data. We've also learned that while many cities are working to open their data, few are able to harness it.
So, we went back to the drawing board to find a stronger solution to help local governments improve and innovate.
A Shift in Focus: Data + Story
As cities move to become truly data-driven, the ability of departments to tell a story about progress and growth has financial—and emotional—implications. It can take months (sometimes years) to lay the groundwork for initial tracking and reporting on key indicators across departments. Even for those that have made progress by opening up their data, it can take weeks to produce a single report or update a public dashboard. The majority of time is spent getting two things right: the data and the story.
And that's where we can help.
mySidewalk is a city intelligence tool that makes it easy for analysts in local government to measure performance, make sense of the results, and deliver a compelling narrative to policymakers and the public.
To put it simply, we're helping people make progress on their process and add meaning to their metrics.
Our Mission: Help Local Governments Improve & Innovate
We've learned a lot throughout this process. Most notably, the cause of our work. We want city leaders and the public to improve and innovate together. Today, we offer two products to help them do that.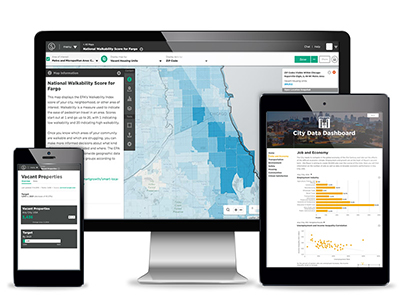 A city intelligence tool designed to help local government analysts get data out of silos and into operational, strategic, and policy decisions.
A powerful online engagement platform that has helped more than 1,200 organizations start conversations with people who care about their communities.
Interested in joining us?
Our team puts in long hours but we do it because our customers do the same. We love getting to know what makes a community unique and uncovering the challenges they share so we can build solutions to help.
We all specialize in knowing our customers—but besides that, the tasks vary. We want people who have a passion for the work ahead, a thirst for learning, and an appreciation for candor. If this sounds like you, let us know.
We're always on the hunt for new, talented team members so feel free to explore our careers page for new opportunities.